Łatwy zwrot towaru
Kupuj i sprawdź spokojnie w domu. W ciągu 14 dni możesz odstąpić od umowy bez podania przyczyny.
Pokaż szczegóły
14 dni na odstąpienie od umowy
Najważniejsza jest Twoja satysfakcja z zakupów. Zamówione u nas produkty możesz zwrócić w ciągu 14 dni bez podania przyczyny.
Bez stresu

i obaw
Dzięki integracji naszego sklepu z tanimi zwrotami Poczty Polskiej kupujesz bez stresu i obaw, że zwrot zakupionego towaru będzie problematyczny.
Prosty kreator

zwrotów
Wszystkie zwroty w naszym sklepie obsługiwane są przez prosty kreator zwrotów, który daje możliwość odesłania do nas paczki zwrotnej.
Nowy album śląskich punkowców z BULBULATORS nosi tytuł "Principes Mortales Punk Aeterna" i jest już piątym studyjnym albumem grupy. Krążek wydany w formacie CD zawiera 11 nowych, autorskich utworów zespołu ale wzorem z przeszłości muzycy także tym razem sięgnęli po cover nagrywając swoją własną interpretację utworu "Przyjdź w taką noc", wielkiego hitu z lat 60-tych ubiegłego wieku wykonywanego swego czasu przez big-beatową formację Niebiesko-Czarni i Helenę Majdaniec, ale bardziej spopularyzowanego przez Czesława Niemena i zespół Akwarele.

Stylistycznie i brzmieniowo nowy album jest kontynuacją poprzednich dokonań grupy, a wśród tekstów znalazł się wiersz Andrzeja Bursy "Pantofelek".
W sesji nagraniowej do płyty gościnnie udział wzięli: wokalistka grupy The End - Pauka oraz klawiszowiec Tomasz Drachus. Okładkę zaprojektował Michał Arkusiński, którego fani znają już z wcześniejszej współpracy z zespołem.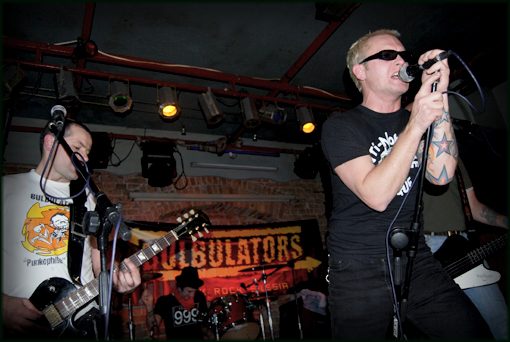 Fot: Dzidek


Nikt nie rodzi się zły

Kundel

Hypnos

Dehumanizacja

Tik Tak Memory

Londek

Bulbojugend

30 kul

Pantofelek

Socjopata

Przyjdź w taką noc

Principes Mortales
Update Required
To play the media you will need to either update your browser to a recent version or update your
Flash plugin
.