Łatwy zwrot towaru
Kupuj i sprawdź spokojnie w domu. W ciągu 14 dni możesz odstąpić od umowy bez podania przyczyny.
Pokaż szczegóły
14 dni na odstąpienie od umowy
Najważniejsza jest Twoja satysfakcja z zakupów. Zamówione u nas produkty możesz zwrócić w ciągu 14 dni bez podania przyczyny.
Bez stresu

i obaw
Dzięki integracji naszego sklepu z tanimi zwrotami Poczty Polskiej kupujesz bez stresu i obaw, że zwrot zakupionego towaru będzie problematyczny.
Prosty kreator

zwrotów
Wszystkie zwroty w naszym sklepie obsługiwane są przez prosty kreator zwrotów, który daje możliwość odesłania do nas paczki zwrotnej.
KUP LUB ODBIERZ W NASZYM SKLEPIE
Możesz sprawdzić czy towar dostępny jest w sklepie od ręki lub zamówić go przez Internet i odebrać w sklepie.
Sprawdź dostępność
Maniowy to jedno z najbardziej upunkowionych miejsc w Polsce. W tej podhalańskiej miejscowości działa kilkanaście zespołów punkowych, przy czym jeden z nich zdobył już sobie spore uznanie poza Podhalem. Mowa o grupie ADHD SYNDROM, pracującej właśnie nad nowym krążkiem, która za sprawą albumu "Grzeczna młodzież" zaistniała szerzej w świadomości fanów punk rocka w całym kraju.
Działalność ADHD Syndrom stała sie impulsem dla kolejnych muzyków, którzy pod koniec 2008 roku zdecydowali się na wspólne granie, a dzisiaj debiutują albumem zatytuowanym "Idealnie".
Zespół APE i ADHD SYNDROM pochodzą z jednej miejscowości, a ich płyty trafiły do katalogu jednej wytwórni - Jimmy Jazz Records. Obie grupy kierują swoją muzykę do podobnej grupy odbiorców i obie zafascynowane są melodyjnym punk rockiem.
Choć APE jest dopiero na początku swojej muzycznej drogi poszukując własnego, charakterystycznego brzmienia to już dzisiaj muzycy zdają się posiadać spory potencjał, i świadomość kierunku, w którym zamierzaja podążać. Jak sami twierdzą: - Mamy jeszcze nie do końca uformowany styl, coś między melodyjnym punkiem, a klasycznym punk rockiem, W każdym razie ważne jest aby było melodyjnie i energicznie.

Taki właśnie jest debiutanck album APE "Idealnie". Energiczny i melodyjny z 13 punkowymi utworami z (głownie) polskimi tekstami, raz ostrzejszymi, a innym razem ocierającymi się o pop punk, którymi zespół bez problemu powinien trafić do zwolenników gatunku.
Grupa ma już na swoim koncie koncerty na południu Polski i obecność na składance "Fermentacja" wydanej przez lokalne stowarzyszenie TKA "Ferment", a w najbliższym czasie pojawi się na scenie tegorocznej edycji festiwalu Rock Na Bagnie w Strękowej Górze.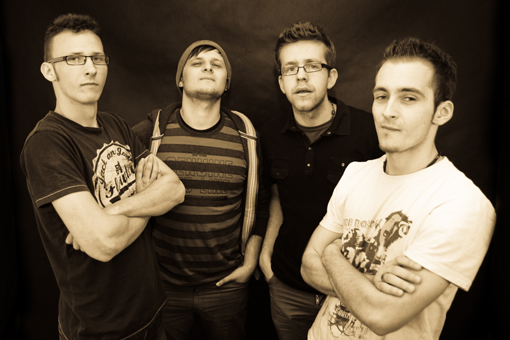 Perfect Not

Nie dla nas

Obecna chwila

Plan

Twój kierunek

Hypocrisy

Robota

Czas goni nas

M.E.B.P.
Update Required
To play the media you will need to either update your browser to a recent version or update your
Flash plugin
.