Łatwy zwrot towaru
Kupuj i sprawdź spokojnie w domu. W ciągu 14 dni możesz odstąpić od umowy bez podania przyczyny.
Pokaż szczegóły
14 dni na odstąpienie od umowy
Najważniejsza jest Twoja satysfakcja z zakupów. Zamówione u nas produkty możesz zwrócić w ciągu 14 dni bez podania przyczyny.
Bez stresu

i obaw
Dzięki integracji naszego sklepu z tanimi zwrotami Poczty Polskiej kupujesz bez stresu i obaw, że zwrot zakupionego towaru będzie problematyczny.
Prosty kreator

zwrotów
Wszystkie zwroty w naszym sklepie obsługiwane są przez prosty kreator zwrotów, który daje możliwość odesłania do nas paczki zwrotnej.
Jakiś czas temu staraniem oficyny N.I.C. odsłonięta została kolejna karta polskiego punk rocka za sprawą winylowego wydawnictwa grupy Stress, jeleniogórskiej załogi punkowej działającej w latach 80-tych i 90-tych ubiegłego wieku. Ich melodyjny punk ze świetnymi acz prostymi tekstami znany był/jest wielu załogantom z wielu kaset krążących po kraju.
Tym razem ten sam materiał zatytułowanym "84-95" wydany został na CD przez firmę Pasażer. Znajdujemy tutaj Stress w 26 odsłonach bo właśnie tyle - krótkich i konkretnych - utworów znalazło się na tym wydawnictwie. Pośród nich m.in. niezapomniane hity koncertowe sprzed lat takie jak: "Pomnik", "Byle inny był dzień", "Robotnicza dzielnica", "Praca dla ojczyzny" czy "Psychopata".
Stress w okresie swojej aktywności, a także na tym albumie to punk rock mocno osadzony w szarości życia schyłku komunizmu i transformacji początku lat 90-tych.

Materiał "podrasowany" został współcześnie w Riot Studio, a za projekt graficzny odpowiedzialny jest Petr z Underground Factory!!!!

Płyta zawiera wkładkę z niezliczoną ilością materiałów archiwalnych o zespole, w tym archiwalny wywiad, wspomnienia Makena, teksty i fotografie.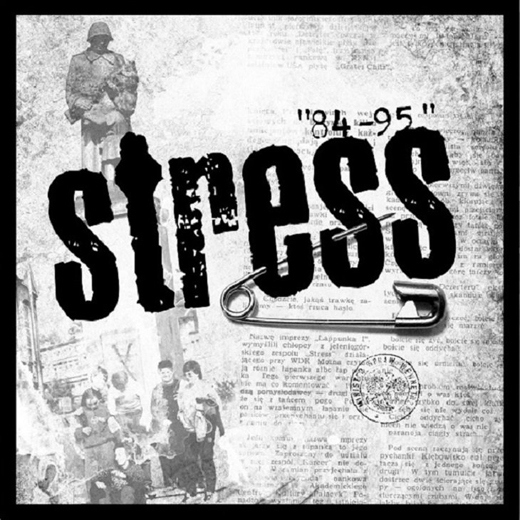 Byle inny był dzień

Dlaczego jestem sam

2001

Rewolucja

III Wojna

Duża i szara

Milicyjny kraj

Do Ani

Pomnik

Obserwacja

Stress

Jak dobrze byc żołnierzem

Miła ulica

Kara za grzech

Psychopata

Nasze pokolenie

Nasz kraj

To wy

Wóda

Ziemia obiecana

Robotnicza dzielnica

Rewolucja noworodków

Praca dla ojczyzny

Piwo (live Gliwice '99)

Krzyk (live Gliwice '88)

Oto jest Polska (live Legnica '91)
Update Required
To play the media you will need to either update your browser to a recent version or update your
Flash plugin
.