Łatwy zwrot towaru
Kupuj i sprawdź spokojnie w domu. W ciągu 14 dni możesz odstąpić od umowy bez podania przyczyny.
Pokaż szczegóły
14 dni na odstąpienie od umowy
Najważniejsza jest Twoja satysfakcja z zakupów. Zamówione u nas produkty możesz zwrócić w ciągu 14 dni bez podania przyczyny.
Bez stresu

i obaw
Dzięki integracji naszego sklepu z tanimi zwrotami Poczty Polskiej kupujesz bez stresu i obaw, że zwrot zakupionego towaru będzie problematyczny.
Prosty kreator

zwrotów
Wszystkie zwroty w naszym sklepie obsługiwane są przez prosty kreator zwrotów, który daje możliwość odesłania do nas paczki zwrotnej.
22 kwietnia 2017 - czyli dokładnie w dniu obchodzonego na całym świecie Record Store Day - święta niezależnych sklepów i wytwórni płytowych - będzie miała miejsce premiera winylowej wersji pierwszego albumu Podwórkowych Chuliganów pt. "Powrót na ulicę"
Płyta pierwotnie wydana została na kasecie i CD w 1999 roku przez poprzedniczkę Jimmy Jazz Records, firmę Rock'n'roller, a następnie wznowiona - już pod aktualną nazwą wydawcy - trzy lata później.

"Powrót na ulicę" to bezsprzecznie zbiór wielu znanych do dzisiaj przebojów grupy bez których nie mogą obejśc się koncerty Podwórkowych Chuliganów. Wszyscy fani doskonale znają takie hity jak "Rudeboy Janek", "Halina", "Podwórkowi Chuligani", "Margaryna", "Nieznośny brat", "Chłopcy z ferajny" i inne... wypełniające wspomniana płytę.

Winylowa edycja albumu wydana zostanie w nakładzie 300 sztuk na trzech kolorach winylu:
- 100 Czarny winyl (Black vinyl)
- 100 Niebieski winyl (Blue vinyl)
- 100 Czarno-żółty winyl (Black and Yellow Aside/Bside vinyl)

Do sprzedaży trafi także 10 test-pressingów w okładce w innym kolorze niż cały nakład płyty.

Zawartość płyty winylowej pokrywa się z zawartością płyty CD wydanej przed laty i ciągle dostępnej w ofercie sklepu Jimmy Jazz Records. Każdy egzemplarz posiada wkładkę z tekstami i zdjęciami zespołu.

Krążek w dowolnej wersji kolorystycznej zamówić można w naszym sklepie w dziale z PRE-ORDERAMI. Wysyłka zamówień w dniu premiery.


Ich pięcioro

Ska! Ska! Ska!

Pankpers

Hippies

Randka w ciemno

Dżordż Makowiec

Podwórkowi chuligani

Chłopcy z ferajny

W gabinecie dr. Martensa

Mój car

Halina

Załoga

Skampilation

Halina (radio version)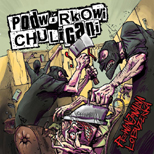 Podwórkowi Chuligani to firma znana na krajowej scenie punk i ska od wielu lat. Zespoł doskonale znany jest fanom za sprawą niezliczonej ilości hitów którymi naszpikowane są kolejne wydawnictwa grupy. Swój pierwszy album o tytule "Powrót na ulicę" Podwórkowi Chuligani nagrali w 1999 roku, a jego wydawcą była firma Jimmy Jazz Records podobnie jak w przypadku drugiego krążka o tytule" Ciężko jest", który pojawił się trzy lata później. Trzeci album o tytule "Na pohybel" ujrzał światło dzienne za sprawą Lou & Rocked Boys w roku 2010 po przerwie spowodowanej zawieszeniem działalności zespołu. Od tamtej pory Chuligani praktycznie bez przerwy obecni są na krajowej scenie i właśnie w 2017 roku obchodzą swoje 20-lecie co postanowili podkreślić kolejnym, tym razem samodzielnie wydanym, albumem....
Update Required
To play the media you will need to either update your browser to a recent version or update your
Flash plugin
.