Łatwy zwrot towaru
Kupuj i sprawdź spokojnie w domu. W ciągu 14 dni możesz odstąpić od umowy bez podania przyczyny.
Pokaż szczegóły
14 dni na odstąpienie od umowy
Najważniejsza jest Twoja satysfakcja z zakupów. Zamówione u nas produkty możesz zwrócić w ciągu 14 dni bez podania przyczyny.
Bez stresu

i obaw
Dzięki integracji naszego sklepu z tanimi zwrotami Poczty Polskiej kupujesz bez stresu i obaw, że zwrot zakupionego towaru będzie problematyczny.
Prosty kreator

zwrotów
Wszystkie zwroty w naszym sklepie obsługiwane są przez prosty kreator zwrotów, który daje możliwość odesłania do nas paczki zwrotnej.
Materiał 19 WIOSEN "Zmarnowany kwiat" nagrany został w lipcu i sierpniu 1993 roku i w tym samym roku wydany na kasecie magnetofonowej ukazał się w 2004 roku jako dodatek CD do czasopisma "Lampa". W roku 2011 pojawił się jako obiekt muzealny na wystawie L-UND w Galeria Manhattan a obecnie wznowiony został przez Antenę Krzyku jako winyl.
                                         **********************
19 WIOSEN jest jednym z ciekawszych zespołów instrumentalno-wokalnych w Polsce istniejącym od 1993 roku. Rozpoznawani są za sprawą charakterystycznego gitarowo-syntezatorowego brzmienia tworzonego przez arcykapelmistrza Grzegorza "Fagota" Fajngolda oraz zastanawiających swym pesymizmo-optymizmem tekstów Marcina Pryta (zbiór tekstów 19 Wiosen ukazał się w formie książkowej - "Szpital Heleny Wolf" wydawnictwo Lampa, Warszawa 2005) . Ich ostatnia płyta "Pożegnanie ze światem" została wydana przez Galerię Raster wiosną 2010 roku. Na uwagę zasługuje współpraca zespołu z Wilhelmem Sasnalem – koncerty w związku z otwarciem wystaw artysty w Polsce i we Włoszech, a także wspólna praca przy filmach (min. "Drugi kościół" Wilhelma Sasnala z muz. i sł. 19 Wiosen). W roku 2010 w wydawnictwie "Oficyna Biedota" ukazało się dwupłytowe archiwum koncertowe zatytułowane "Suweniry", zawierające nagrania z lat 1995 – 2008 oraz 6 bonusowych klipów. Zespół w swojej dyskografii łącznie z kompilacjami wydał 14 tytułów na różnych nośnikach (CD, MC, vinyl, digital).
Intro

Zdradziecka ręka

Zmarnowany kwiat

Ostatni świadek

Niedoszła dzieciobójczyni

Samochody różnego wdzięku

Nożem uczył uczciwości

Złodziej

Bardzo wielka miłość

Różowe krople

To co lubię

Co każdą chwilę

21 jesieni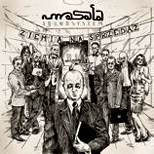 Bezsprzecznie najgłośniejszą premierą z ostatnich propozycji Anteny Krzyku jest wznowienie legendarnej EP-ki DEZERTERA "Ku przyszłości", o której możecie poczytać niżej, a którą osoby z odrobiną życiowego fartu mają możliwość jeszcze zamówić w naszym sklepie. Poza wspomnianym tytułem w ostatnim czasie Antena Krzyku wypuściła także kilka innych interesujących pozycji na winylach i CD.
Zapraszamy do naszego sklepu gdzie poza premierami i wznowieniami albumów takich wykonawców jak MASALA SOUNDSYSTEm, STARZY SINGERS, 19 WIOSEN, NATCHNIONY TRAKTOR, NIGHTCLUB FIRE czy QUEER RESOURCE CENTER znaleźć można nieco uzupełnień, które w ostatnim okresie znikły z naszego sklepu.
Wśród tytułów, które powróciły do sklepu polecamy m.in. wydawnictwa HAŃBY, PERU, BUZZ RODEO, PSYCHOCUKIER, ALLES, KINSKY, STUBS, INPALUMBIA, CALM THE FIRE i innych...
Update Required
To play the media you will need to either update your browser to a recent version or update your
Flash plugin
.