Łatwy zwrot towaru
Kupuj i sprawdź spokojnie w domu. W ciągu 14 dni możesz odstąpić od umowy bez podania przyczyny.
Pokaż szczegóły
14 dni na odstąpienie od umowy
Najważniejsza jest Twoja satysfakcja z zakupów. Zamówione u nas produkty możesz zwrócić w ciągu 14 dni bez podania przyczyny.
Bez stresu

i obaw
Dzięki integracji naszego sklepu z tanimi zwrotami Poczty Polskiej kupujesz bez stresu i obaw, że zwrot zakupionego towaru będzie problematyczny.
Prosty kreator

zwrotów
Wszystkie zwroty w naszym sklepie obsługiwane są przez prosty kreator zwrotów, który daje możliwość odesłania do nas paczki zwrotnej.
Limitowana do 200 sztuk winylowa edycja drugiej płyty Starych Singers. Historia Starych Singers jest prosta jak ten, no…

Zespół powstał w Warszawie na początku lat 90tych. Wstępnie jako wynaturzenie dwóch panów: Seszela – starannie wyedukowanego basisty o aksamitnym głosie; i Bartka Magneto – wszechstronnego muzyka o ciekawym spojrzeniu na rzeczywistość. Po pewnym czasie zasilił ich Dziamdzia – bardzo szybko kostkujący gitarzysta z nienaganną techniką artykulacyjną. A po dojściu Macia – perkusisty łamiącego ograniczone ilości pałeczek, zespół ruszył pełną parą realizując hasło "Wczoraj Kotły, dzisiaj Wembley, jutro cały świat".
W roku 1996 po zagraniu wielu koncertów w kraju, a ściślej w jego stolicy, Starzy nagrali materiał na płytę "Ombreola" wydaną rok później nakładem Studio Złota Skała. Kolejna płyta nagrana w roku 1998, a wydana w 1999, o interesującym tytule "Rock-a-bubu" odbiła się szeroką czkawką tak w środowisku słuchaczy jak i mediów, medii, medyj. O zespole zrobiło się głośniej.
W międzyczasie zespół zasiliła wokalistko-tancerka Mania.
Starzy rozpoczęli intensywniejsze koncertowanie, co zaowocowało występem na kilku ciekawych festiwalach oraz trasą po Niemczech i Amsterdamie.
W roku 2000 wraz z Patyczakiem (Brudne Dzieci Sida) powołali do życia hybrydę o pięknie brzmiącej nazwie Starzy Sida, czego efektem była pewna ilość koncertów oraz wydana w 2001 roku płyta tegoż potwora.
Latem 2003 Starzy ponownie weszli do studia, tym razem sopockiego schronu im. Adama Mickiewicza by zarejestrować swój trzeci album. Po nagraniu go jednakowoż zdecydowali, że nie będą już dalej grać (z różnych powodów, których wymienić tu nie sposób). Płyta w tzw. relaksacyjnym tempie została poddana obróbce dźwięku i w kwietniu 2005 ukazała się nakładem wytwórni Lado ABC, a na imię jej "Takie jest c'est la vie". Natomiast sami Starzy odpocząwszy nieco, poczuli że brak hałasu nie koi ich nerwów i zdecydowali się, że będą dalej grać (z różnych powodów, których wymienić tu nie sposób) w swym pierwotnym kwartetowym wcieleniu.
Ich ostatnimi dokonaniami są: nagrana wspólnie z Marcinem Świetlickim piosenka do tekstu Władysława Broniewskiego na płytę wydaną przez galerię Raster, cover Kryzysu "Dolina lalek" na składankę "Tribute to Kryzys" oraz rasowy blues na składankę "Blues… Is Number One" wydaną prze Gusstaff Records. A, i jeszcze jeden cover Kryzysu – "Święty Szczyt", na spółę z Muńkiem.
I tu historia się urywa…
Koko drzambo? Jes.
Rudy 103

Seks & draks & telefaks

El Sistema

Hole'n'Derka

Ataki

Gary River

Jemadzidzi

Chamski

Go go to Hel

Dr. Sikora went went to Hel

Żampiony

Barata

Balata

Trampki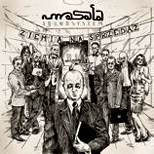 Bezsprzecznie najgłośniejszą premierą z ostatnich propozycji Anteny Krzyku jest wznowienie legendarnej EP-ki DEZERTERA "Ku przyszłości", o której możecie poczytać niżej, a którą osoby z odrobiną życiowego fartu mają możliwość jeszcze zamówić w naszym sklepie. Poza wspomnianym tytułem w ostatnim czasie Antena Krzyku wypuściła także kilka innych interesujących pozycji na winylach i CD.
Zapraszamy do naszego sklepu gdzie poza premierami i wznowieniami albumów takich wykonawców jak MASALA SOUNDSYSTEm, STARZY SINGERS, 19 WIOSEN, NATCHNIONY TRAKTOR, NIGHTCLUB FIRE czy QUEER RESOURCE CENTER znaleźć można nieco uzupełnień, które w ostatnim okresie znikły z naszego sklepu.
Wśród tytułów, które powróciły do sklepu polecamy m.in. wydawnictwa HAŃBY, PERU, BUZZ RODEO, PSYCHOCUKIER, ALLES, KINSKY, STUBS, INPALUMBIA, CALM THE FIRE i innych...
Update Required
To play the media you will need to either update your browser to a recent version or update your
Flash plugin
.