Łatwy zwrot towaru
Kupuj i sprawdź spokojnie w domu. W ciągu 14 dni możesz odstąpić od umowy bez podania przyczyny.
Pokaż szczegóły
14 dni na odstąpienie od umowy
Najważniejsza jest Twoja satysfakcja z zakupów. Zamówione u nas produkty możesz zwrócić w ciągu 14 dni bez podania przyczyny.
Bez stresu

i obaw
Dzięki integracji naszego sklepu z tanimi zwrotami Poczty Polskiej kupujesz bez stresu i obaw, że zwrot zakupionego towaru będzie problematyczny.
Prosty kreator

zwrotów
Wszystkie zwroty w naszym sklepie obsługiwane są przez prosty kreator zwrotów, który daje możliwość odesłania do nas paczki zwrotnej.
Kiedy w 2004 roku PO PROSTU - legenda polskiego punka 77 ujawniła światu swój album zatytułowany "Happy End", można było za sprawą tytułu płyty odnieść wrażenie, że to ostatni krążek Szczepana i jego kolegów.
Na szczęście nic takiego się nie przydarzyło. Od tamtej pory zespołowe wydawnictwa co jakiś czas pojawiają się na rynku dzięki czemu do fanów trafiło winylowe i kompaktowe wydanie "Demo '86", a także koncertowy - wydany na dwóch CD z okazji 25-lecia zespołu - album zatytułowany "Fajans i szmira" zawierający 37 utworów zarejestrowanych podczas koncertu Po Prostu.

Od pewnego czasu Po Prostu pracowało nad swoim nowym krążkiem, który otrzymał tytuł "Poczet Alimenciarzy".
Płyta wydana przez Olifant Records zawiera 18 utworów na CD (w większości premierowych, choć trafiamy też na wydany przed laty na składance "Gdynia" utwór "Ład, ład bum cyk zet") i 14 na wersji winylowej z adekwatną dla Po Prostu dawką paranoi oraz dystansu do własnej twórczości i otaczającej nas rzeczywistości...

Płyta winylowa wydana została w numerowanym nakładzie 500 sztuk na 180 g winylu i w 5 wersjach kolorystycznych (biały, przezroczysty, różowy, żółty i pomarańczowy). Z całego nakładu do sprzedaży trafiło po 50 sztuk z każdego koloru. Krążek wydany jest w rozkładanej okładce (gatefold).
Rzywotny problem młodzierzy

Nisz demograficzny

Łat. Łat. Bóm. Cyk. Zet

Miłość jak z bajki

Światowy bókiet

Epidemia rozwodów

Opowieści drzewa sandałowego

Piłkarska kadra czeka

Świr jak pięć groszy

Lenin w Poroninie

Styl i klasa

Krasy byk

Kadza. Dżu. Dżu

Rzeby nam się lepiej żyło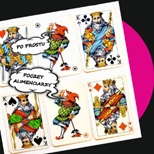 Nadeszła pora na winylową wersję najnowszego albumu punkowej legendy Po Prostu... Po wiosennej premierze wersji CD kilka miesięcy przyszło czekać fanom zespołu na winylowe wydanie płyty pt. "Poczet alimenciarzy". Winyl - podobnie jak CD - wydany został przez Olifant Records.
Płyta pojawiła się w sprzedaży jako edycja numerowana. Spośród całego nakładu 500 sztuk wytłoczonych na 180 g winylu tylko połowa trafiła do sprzedaży. Niewątpliwą atrakcja wydawnictwa jest możliwość zakupu albumu w jednej z 5 przygotowanych wersji kolorystycznych. Fani maja do wyboru biały, przezroczysty, różowy, żółty i pomarańczowy kolor winylu....
Update Required
To play the media you will need to either update your browser to a recent version or update your
Flash plugin
.