Nowości i uzupełnienia....
2010-09-05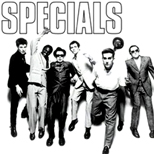 Ostatnie dni zaowocowały dodaniem do naszej oferty sporej ilości tytułów nowych oraz tych, które skonczyły się w sklepie. Dotyczy to zarówno płyt CD jak i krążków winylowych.
Pośród najbardziej ostatnio poszukiwanych pozycji warto wspomnieć o ponownie dostępnym, podwójnym wydawnictwie zawierającym płytę audio i krażek DVD z teledyskami kultowych
THE SPECIALS
. Podwójne wydawnictwo
"The Best Of Specials"
w cenie zaledwie 35 zł. poprzednim razem przetrwało w sklepie zaledwie kilka dni. Dzisiaj kolejna porcja wydawnictw dla tych, którzy przespali możliwość zakupu.
Tych samych odbiorców powinna zainteresować płyta "Waiting" formacji
FUN BOY THREE
stworzonej przez byłych muzyków THE SPECIALS ma czele z charyzmatycznym wokalistą Terry Hall'em.
Warto także zapoznać się takimi pozycjami jak klasyczne albumy
STIFF LITTLE FINGERS
, ostatni krążek kultowych
MADNESS
, jamajskie archiwalia w wykonaniu
BLUES BUSTERS
czy reggae'owa klasyka w postaci płyt
BURNING SPEAR
'a.
Punk 77 to zapomniany nieco album doskonałej formacji
AUTOMATICS
, "bestka"
THE SKIDS
oraz kultowa płyta "The Crack", świetnych
THE RUTS
.
Post-punkowe klimaty znaleźć można na trzech albumach
MAGAZINE
, a dub i reggae to domena
LEE PERRY'ego i DUB SYNDICATE
...
To oczywiście nie wszytsko bo wnikliwi poszukiwacze dotrą także do kilku winylowych smakołyków oraz kilku nowych pozycji na DVD.
Zapraszamy do sklepu, a wkrótce kolejna porcja nowych pozycji na CD i LP.
Sprawdź --->
wszytskie ostatnie nowości
.