2019-01-16
LP The Analogs - Poza prawem... Ruszyła wysyłka zamówień przedpremierowych!!
Ruszyła wysyłka przedpremierowych zamówień na winylową wersją płyty The Analogs "Poza Prawem". Album ten, wydany w 2006 roku na CD, doczekał się wreszcie wersji winylowej za sprawą wspólnego wydawnictwa Jimmy Jazz Records i Oldschool Records, będącego jednocześnie początkiem serii wydawnictw obu wytwórni, których celem jest wydanie na winylu wszystkich płyt The Analogs, pochodzących z katalogu Jimmy Jazz Records, które dotychczas dostępne były tylko na CD.
"Poza prawem" to jeden z najlepszych i najbardziej przebojowych albumów The Analogs, naszpikowany hitami jak dobre ciasto rodzynkami, a utwory takie jak "Pieśń Aniołów" czy tytułowy "Poza prawem" stały się na zawsze wizytówkami zespołu i punkowymi klasykami.


"Poza prawem" to 14, energetycznych utworów (zarejestrowanych 2006 roku w studio wytwórni Jimmy Jazz), które w połączeniu z uliczna poetyką tekstów grupy, rozpalają od lat wyobraźnię i serca słuchaczy. W zgodzie z tradycją wczesnych albumów także na "Poza prawem" The Analogs sięgnęli po klasykę punk rocka nagrywając z polskim tekstem utwór "Right To Work" – jeden ze sztandarowych hitów angielskiej formacji Chelsea.
W kilku fragmentach płyty gościnnie wystąpili muzycy nieistniejących już zespołów: wokalistka żeńskiej, punkowej formacji Beri Beri – Marta Wiśniewska oraz gitarzysta melodic punkowej grupy Road Trip's Over Maciej Kiersznicki.


Album dostępny jest jedynie w sklepach wydawców, a wydany został na dwóch kolorach winylu: czarnym (200 szt.) i czarno-czerwonym splatterze (100 szt).

Zapraszamy do sklepu i składania zamówień.


LP ---> THE ANALOGS - "Poza prawem"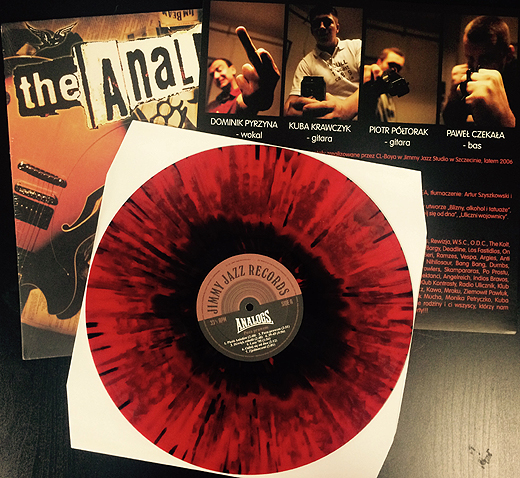 Polecane
Poza prawem
Poza prawem (LP, czarny winyl)